One of the most embarrassing moments of my life happened my senior year of high school. Let me set the scene: My parents were out of town, I was staying with my friend Deon, and I had an infected colon.

How does your colon get infected? I have no idea, but every meal was a gamble getting to the bathroom.
My point, I had a hard time controlling my bodily functions.

Before going to Deon's house for the weekend I had several close calls but no accidents.

As to be expected, we went to bed and couple hours later are noses physically drag us out of our sleeping bags.

It was this awful smell. It smelled like someone was cooking tar, rotten vegetables, and skunk in the crockpot.

Then I began to realize the awful smell was coming from my sleeping bag.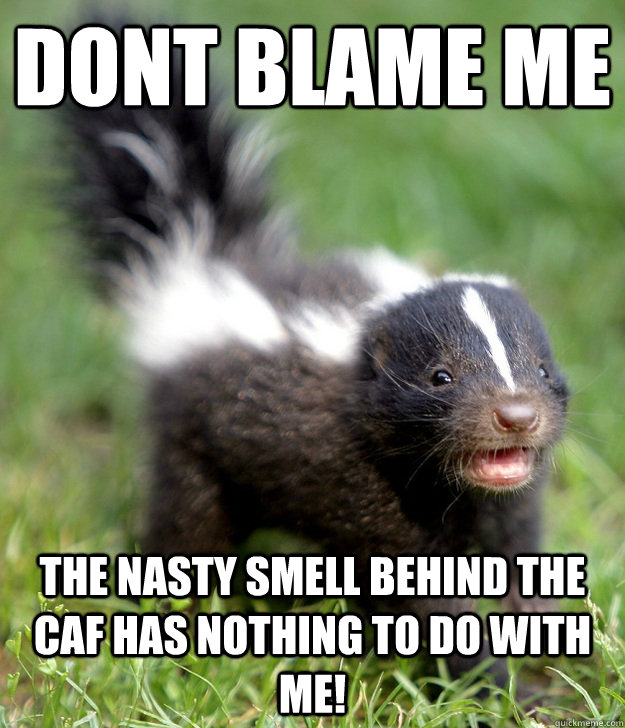 Deon kept saying, "Something died in my room.

What is that awful smell.

Andy what did you do?"
With all of the courage I could muster, I looked at Deon… and stuck my lip out… "I couldn't help it, but I pooped my pants."
I'm remember jumping in the shower to clean myself up and then running outside and throwing my sleeping bag and clothes into the trash.
Let my point out, I should have laid down a plastic tarp in the backyard and slept naked.

However, that is not what I did.

Oh no... that would have been the smart thing to do… Instead, I hopped into the guest bed.

A couple hours later, that awful skunk crept back in the room.

I couldn't believe it, but twice in one night I had been unable to control my bodily functions.

I stripped the sheets, threw them in wash, hopped in the shower, and then threw my clothes in the trash.
At this point, I should have gone to the grocery store and bought diapers.

However, that is not what I did.

Oh no…I just wrapped myself up in a white sheet and laid down on his mother's white couch in the den.

Here is a tip, never buy white furniture. I am sure, you can see where this is headed…That's right people… I used that white couch like it was one big piece of toilet paper.

Being the good friend that I am.

I threw that sheet in the trash, flipped that couch cushion over (oh you heard that right…I just flipped it over, and then I drove home only wearing a hand towel, because I was too embarrassed to wake Deon.

What was I thinking?

I am pretty sure I single handedly ruined the price of his mother's house. His poor mother threw up the instant she walked down the stairs.
If that experience wasn't bad enough.

When I got to school on Monday, Deon had sworn his girlfriend to secrecy.

Unfortunately, she thought this story was too funny not to share.

She needed to tell everyone that I had pooped myself for the entire weekend.

Every class I went in to my friends would say things like, "Don't poop here."

Do you need a bag to clean up after yourself."

Or "Hey Andy my little brother is potty trained, what happened to you?"
Then to make matters worse, the principal called me to his office.

"Andy, I heard some of the kids are making fun of you.

They said you had a couple accidents at Deon's house.

Is there anything I can do to help?"
"Sure, why don't you just put me on your changing table and change my dirty diaper or how about you enroll me in a potty training class or maybe you just let me walk around naked all day so I won't poop in my pants."
I'm sure y'all can imagine my humiliation.
What if you had to go through life telling everyone this story. Yelling at the top of my lungs, I am unclean... unclean. Get away from me.
The woman we encounter in Mark 5 lived this awful fate. For twelve years she had been hemorrhaging. Every time she walked into a public place she would cry out I am unclean. Please get away from me I am unclean.
Yet she believed if she could just touch Jesus she would be made well.
Every single one of us is unclean and separated from Jesus Christ because of our sin. What is sin? Everything in our life that separates us from a personal relationship with Jesus Christ. From the beginning of time we were designed to be in a loving relationship with Jesus, yet our sin separates us. Much like this woman who was bleeding we need Christ to heal us. We need to reach out and touch Jesus and believe he has the power to make us well.
Mark 5:25-34 – Bleeding Woman
25
There among the people was a woman who had been bleeding for the past twelve years.
26 She had suffered very much. Many doctors had tried to help her, and all the money she had was spent, but she was not improving. In fact, her sickness was getting worse.
27
The woman heard about Jesus, so she followed him with the other people and touched his coat.
28 She thought, "If I can just touch his clothes, that will be enough to heal me."
29 As soon as she touched his coat, her bleeding stopped. She felt that her body was healed from all the suffering.
30 Jesus immediately felt power go out from him, so he stopped and turned around. "Who touched my clothes?" he asked.
31
The followers said to Jesus, "There are so many people pushing against you. But you ask, 'Who touched me?'"
32
But Jesus continued looking for the one who touched him.
33 The woman knew that she was healed, so she came and bowed at Jesus' feet. She was shaking with fear. She told Jesus the whole story.
34 He said to her, "Dear woman, you are made well because you believed. Go in peace. You will not suffer anymore."
If we do not seek healing for the sin in our life it will ultimately destroy us whether we realize it or not. Few
college football coaches have made a point against the sins in our world as effectively as Erk Russell. He arranged for a couple of good ol' boys to burst into a routine team meeting and throw a writhing, hissing, six-foot-long rattlesnake onto a table in front of the team. "Everyone screamed and scattered," Russell recalls. "I told them, 'When cocaine comes into a room, you're not nearly as apt to leave as when that rattlesnake comes in. But they'll both kill you!"
Do you believe Jesus has the power to free you from your sins?